Our Weekly Menu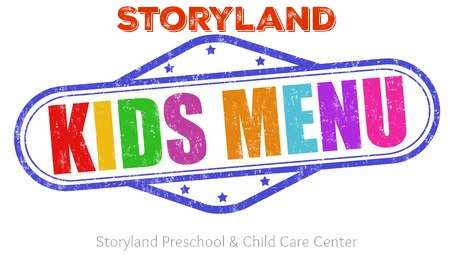 Our weekly menu consists of nutritious foods and snacks based on the Child and Adult Food Program guidelines. 
Each child in attendance is welcome to enjoy a nutritious breakfast, lunch and afternoon snack.

We serve a variety of healthy foods including familiar and unfamiliar ethnic types of dishes and encourage children to try whatever is served.

We do not insist that they eat.  We will let you know if your child is having difficulty at mealtime and we can discuss alternative plans.

If you have any questions about our weekly menu, please do not hesitate to ask at the front desk, or if you prefer, you can contact us directly through the website.
Storyland Preschool Menu

Download a PDF Copy of the Menu
June 27, 2016
Infants and Toddlers are often served a substitute
if the main menu item poses a choking hazard. Please see above for changes in the menu.

Food & Nutrition Reminders

No candy or soda for meals Breakfast ends promptly at 9:00 Late arrivals: 
Please call by 10:00 if your child will need a lunch If you would prefer to bring your child's breakfast or lunch, this is fine as long as it meets the nutritional guidelines set forth by the State of Texas.

A nutritious lunch might include a serving from the meat or meat alternate group, a vegetable, a fruit, a serving from the bread group, and milk. 
PLEASE, do not send soft drinks or candy with your child, as this is not nutritious.

If a child arrives with a breakfast or lunch that we conclude is not nutritionally sound, we will provide a nutritious breakfast or lunch for your child.

There is no reduction in fees for sending a lunch. We serve breakfast in the classrooms from 8:30 to 9:00 each day. 
After that, our preschool program begins.  If you arrive late and your child needs to eat, you may stay with your child in their classroom until they are finished eating.
Please be sensitive to the needs of the class and do not expect your child's teacher to stop teaching and feed your child breakfast after 9:00 AM.

Infants
For children not yet ready for table food, you must provide written feeding instructions with your signature and date. 
The feeding instructions must be reviewed and updated at least every 30 days until your child is able to eat table food.  

You will also be responsible for providing formula or breast milk in sufficient supply for the day. 
We provide baby cereal, fruits, vegetables, and meats.  Please label each bottle with your child's first name and first initial of their last name.