Our Weekly Menu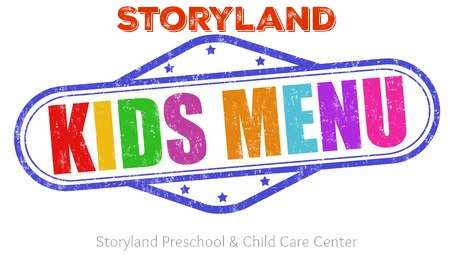 Our weekly menu consists of nutritious foods and snacks based on the Child and Adult Food Program (CACFP) guidelines. 
Each child in attendance is welcome to enjoy a nutritious breakfast, lunch and afternoon snack, providing they are in attendance during the time meals are served.

Mealtime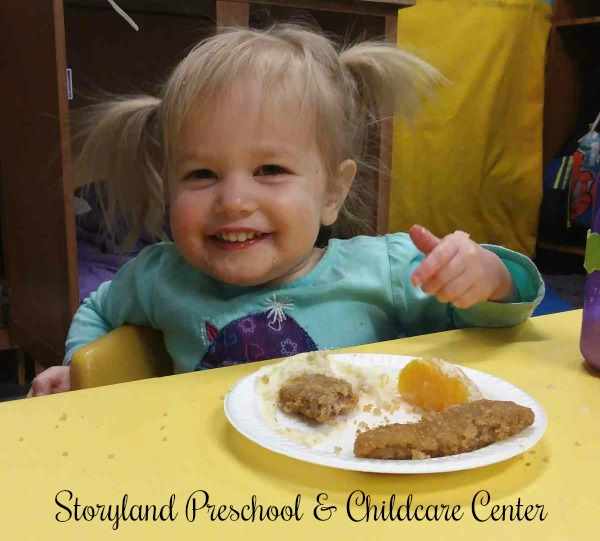 It is very important that your child be in attendance during the time when he/her class is being served.
Infants through 3-year-olds:  Breakfast:  8:00 to 8:30 AM
Preschool and Pre-K Classrooms:  Breakfast 8:30 - 9:00 AM
To participate in this Food Program, children will need to be in attendance during the hours that meals and snacks are served. There are many rules and regulations that govern this government program and Storyland depends on the program to provide a superior food service for your child.  One very important regulation that we must follow is the timing of meals. 
Children must be present at the facility at the time meals are served.  Unfortunately, we are unable to serve a meal to your child if he is late to school.  Due take this into consideration when planning your daily schedule.
Another requirement of the CACFP that we must follow is the "All or Nothing" rule.  This government rule states that children will be served the entire meal meaning all that is on the menu for that day.  That is how Storyland gets some reimbursement for providing this quality meal service.  Children are encouraged to try all the foods served, but are never required to eat a particular food if they do not wish to do so.  The one exception is that of a food allergy.  If your child has an allergy, please read the section below about allergies.
If you have any questions about our weekly menu or any other part of the food service program, please do not hesitate to ask at the front desk, or if you prefer, you can contact us directly through the website.
Children With Allergies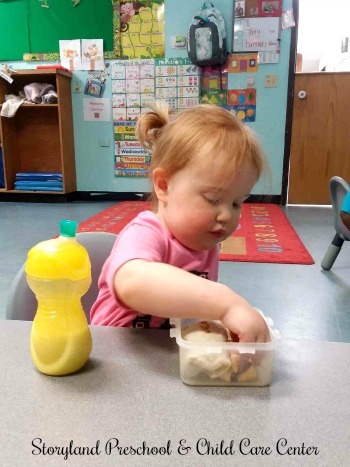 We realize that many children have specific food allergies and we want to accommodate their needs. If it has been determined that your child has an allergy and should not consume a specific food, you will need to complete an allergy care plan. 
Both your child's physician and a parent or guardian must sign. 
You can download a PDF Allergy Care Plan from this website or ask for one in person at the front desk.
Storyland Preschool Menu

Our CACFP Menus are produced on a four week repeating cycle, meaning that your child's daily menu will be rotated approximately every month.  We do this to assure that he or she is getting a wide variety of nutritious foods each month. 
Cycles are numbered from one to four.  Check out the dates below to discover which cycle of the menu is being served.
Weekly Menu: Cycle Dates
Cycle One
---

March 23, 2020
April 20, 2020
May 18, 2020
June 15, 2020
July 13, 2020
August 10, 2020
September 7, 2020
October 5, 2020
November 2, 2020
November 30, 2020
December 21, 2020
Cycle Two
---
March 2, 2020
March 30, 2020
April 27, 2020
May 25, 2020
June 22, 2020
July 20, 2020
August 17, 2020
September 14, 2020
October 12, 2020
November 9, 2020
December 7, 2020
December 28, 2020
Cycle Three
---
March 09, 2020
April 6, 2020
May 4, 2020
June 1, 2020
June 29, 2020
July 27, 2020
August 24, 2020
September 21, 2020
October 19. 2020
November 16, 2020
December 14, 2020
January 4, 2020
Cycle Four
---
March 16, 2020
April 13, 2020
May 11. 2020
June 8, 2020
July 6, 2020
August 3, 2020
August 31, 2020
September 28, 2020
October 26. 2020
November 23, 2020
December 14, 2020
Download a PDF Copy of the Four Week Menu
Or, scroll down to read the menu online
Weekly Menu:  Cycles
Cycle One
Sausage Patties
Fresh Apples
Milk
Strawberry Bagels
Bananas
Milk
Ham & Egg Breakfast Bar
Fresh Oranges
Milk
Ravioli
Green Beans
Sliced Bread
Fresh Apples
Milk
Meatballs in Brown Gravy
Mashed Potatoes
Sliced Bread
Fresh Oranges
Milk
Chili Crispitos
Pinto Beans
Pineapple
Milk
Chicken Nuggets
Diced Carrots
Fresh Oranges
Milk
Bologna & Cheese Saltines
Tomatoes
Bananas
Milk
Saltine Crackers
Fruit Juice
Cycle Two
English Muffin
Peaches
Milk
Breakfast Pizza
Fresh Oranges
Milk

Fish Nuggets
Peas & Carrots
Pears
MIlk
Corn dogs
Baked Beans
Fresh Oranges
Milk
Chicken Slides
Tater Tots
Pineapple
Milk
Pork Ribs
Mashed Potatoes
Fresh Apples
Sliced Bread
Bologna & Cheese Saltines
Fresh Cucumber
Fresh Oranges
Milk
Cycle Three
Cinnamon Cream Cheese Bagels
Applesauce
Milk
Cheese Toast
Fresh Oranges
Milk
Teriyaki Chicken
Rice
Peas and Carrots
Milk
Steak Fingers
Mashed Potatoes
Applesauce
Milk
Pepperoni Pizza
Green Beans
Fresh Oranges
Milk
Hot Dogs
Tater Tots
Bananas
Milk
Ham & Cheese Saltines
Tomatoes
Fresh Oranges
Milk
Goldfish Crackers
Fruit Juice
Cycle Four
Pigs-n-Blanket
Diced Carrots
Pears
Milk
BBQ Beef Brisket
Sliced Bread
Baked Beans
Fresh Oranges
Milk
Beef Sliders
Tater Tots
Mixed Fruit
Milk
Burritos
Pinto Beans
Fresh Apples
Milk
Ham & Cheese Saltines
Cucumbers
Bananas
Milk
Saltine Crackers
Fruit Juice
Goldfish Crackers
Fruit Juice
Food & Nutrition Reminders

Food and Nutrition Reminders
No candy or soda for meals Breakfast ends promptly at 9:00 Late arrivals: 
Please call by 10:00 if your child will need a lunch If you would prefer to bring your child's breakfast or lunch, this is fine as long as it meets the nutritional guidelines set forth by the State of Texas.

A nutritious lunch might include a serving from the meat or meat alternate group, a vegetable, a fruit, a serving from the bread group, and milk. 
PLEASE, do not send soft drinks or candy with your child, as this is not nutritious.

If a child arrives with a breakfast or lunch that we conclude is not nutritionally sound, we will provide a nutritious breakfast or lunch for your child.

There is no reduction in fees for sending a lunch. We serve breakfast in the classrooms from 8:30 to 9:00 each day. 
After that, our preschool program begins.  If you arrive late and your child needs to eat, you may stay with your child in their classroom until they are finished eating.
Please be sensitive to the needs of the class and do not expect your child's teacher to stop teaching and feed your child breakfast after 9:00 AM.

Infants
Infants and Toddlers are often served a substitute
if the main menu item poses a choking hazard. Please see above for changes in the menu.

For children not yet ready for table food, you must provide written feeding instructions with your signature and date. 
The feeding instructions must be reviewed and updated at least every 30 days until your child is able to eat table food.  

We provide baby cereal, fruits, vegetables, and meats and baby formula (Parents' Choice).  Please label each bottle with your child's first name and first initial of their last name.